Quotes about Linda Troeller's projects and book publications

.

Living in the Chelsea Hotel, Linda Troeller, Schiffer Publishing, 2015

"This book is the most important art book about the Chelsea Hotel at the turning from the twentieth to the twenty-first century."

-Kristin Dittrich Festival Founder and Photography Specialist, Germany, 2015

"Linda Troeller's Living Inside the Chelsea Hotel is a good
example on how to resist when it comes to preserve patrimony from the hands of the urban real estate developers."

-Juan Gaviria, Freelance Curator, Medellin, Colombia, 2015

"Linda Troeller's work reflects transcendence. Through technology, through self-examination, through sexuality, location and visual dissonance, Linda's photographic style interweaves both an airy lyricism along with genuine poetic content. Equally significant the work enacts the unexpected turns of human experiences informing a kind of openness that gives a sense of being simultaneously polished and jagged, familiar and subtle.

A kind of tasteful disruption, which provokes a process, which is a process of life and art. Thereby initiating work that, like a fair tap on the forehead, disrupts expectations in a manner that enacts more completely the uncertainty of the experience."

- David Linter, NYC, screenwriter and author, 2010

Chelsea Hotel, Blurb, 2006

"Linda Troeller, living and working in the Chelsea Hotel brings her edgy personal aesthetic to bear in this revealing preservation of a unique oasis where individuality, creativity, acceptance and freedom have yet managed to be safeguarded in a region of rampant and veracious real estate development."

Joanna Lehan, Curator, 2006

"Ms. Troeller's is a backstage peak at a diva without makeup, a look at an un-self-conscious little world often lost in a grander narrative."

Caroline H. Dworin, New York Times, Sunday July 22, 2007

"Haunting the Hotel Halls, a photo essay of 13 photographs

"Troeller's work captures the mood of the Chelsea's vibrant present, rather than focusing on its legendary past."

-Chelsea Now, New York, May 4, 2007

Orgasm, Photographs and Interviews, Linda Troeller and Marion Schneider, Daylight, 2014

"Due to the repression and shame imposed by patriarchy, we are still at the onset of exploration of female sexuality and eroticism. Not only does this book reveal the power, divinity, originality, and necessity of female orgasm, but by giving women agency and voice regarding their sexuality, it becomes a deeply erotic work in itself."

<![if !supportLists]> – <![endif]> Eve Ensler, author of The Vagina Monologues

"Linda Troeller's latest photographic project takes a very important step toward greater understanding of female orgasm, particularly the fact that each woman experiences it in a unique way. The stories by Marion Schneider that accompany the insightful portraits further reveal the complexities of orgasm and sexual experience for women."

-Catherine Johnson-Roehr, Curator of Art, Artifacts, and Photographs The Kinsey Institute for Research in Sex, Gender, and Reproduction,

Bloomington, Indiana

"Enough of the clinical studies, the charts, graphic shots and representations...Photographer LInda Troeller, interviewer Marion Schneider and the women who reveal themselves in this quest, return to Orgasm its great mystery and magic. This is the power of orgasm and the power of art."

-Veronica Vera Cottingham, NYC, Doctor of Human Sexuality

"There are very few people who, in our pornified society, can visually capture and eroticize the female and feminine body without objectifying it. In her photographs, Linda Troeller captures the confidence, strength, and power in women's erotic lives. And she does so without the usual trite and cliché images of feminine vulnerability and modesty and without the masculine gaze. Linda Troeller's subjects, the women she photographs, come alive in her work as just that. Desiring and desirable subjects rather than sexual objects."
-

Mimi Schippers, Professor, University of New Orleans, LA
Photographer Linda Troeller and scholar Marion Schneider decided to put an end to the gender biased trend. Together, they photographed and interviewed women of all different ages, nationalities and cultural backgrounds, thus crafting a raw, sensual and multifarious view of what a female orgasm is and, importantly, what it can be. The two compiled their findings into a stunning book published by Daylight, aptly called "Orgasm," bringing private matters into the public eye, further eliminating the stigma and shame too often associated with the topic.
-Pricila Frank, Huffington Post, August, 2014
TB-AIDS Diary, 1988-
"Linda Troeller's TB-AIDS DIARY is an affecting narrative that will move and inform any view/reader."
-Vince Alletti, "Choices," Village Voice, January 1992
"Each collage is rife with visual drama, contrasting the model's quiet beauty against the experience of dealing with desolation and loss."
-Nicole Plette, The New York Times, Sunday, December 9, 1990
"It is a request for recognition of the human being among the labels that best represents the importance of combating prejudice and isolation. And it is this message that gives the TB-AIDS Diary its impact."
-Brenda Reed, The Photo Review, Vol. 13, No. 2, Spring 1990
"Troeller is rather like a modern-day Goya, transcending demographics and statistics and documenting the painful stigma and suffering of AIDS-infected people in the '90s, much as the Spanish artist chronicled the savage atrocities of war in an eyewitness series of etching, "The Disasters of War, " 1810-13."
Cathy Viksjo, The Trenton Times, September 7, 1991
"This show, "Taboo: Bodies Talk" including TB-AIDS Diary works by Linda Troeller, is about healing. The body becomes a means for processing and exploring issues on illness, sexuality, and gender. Questions are raised: What is normal? What is natural? It is not a definitive answer that is important but the process of finding a personal truth."
-Shari Caroline Diamond, Gallery 494, January 9-26, 1992
"The TB-AIDS Diary are collaged over black and white photos of a model sitting beneath a strong sunlamp (a treatment for TB). Her starkly illuminated frame eerily suggests the transparency of the X-rays that also forms part of the collages. The tone of this first section of the piece lies somewhere in between Anne Frank's diary and Duane Michal's recent series of quaint photo-stories."
-Windy City Times, Thursday, December 20, 1990
"Cries of Rage and Shame" Linda Troeller's 5 page photo-essay:
"Since it first shown, last June, Troeller's diary has crossed the country and the Atlantic, mad last week, it was shown at the Fifth International Conference on AIDS in Montreal. By count 54,402 people have died of Aids in the USA as of April 30. AIDS through the prism of art."
-The Philadelphia Inquirer Magazine, June 11, 1989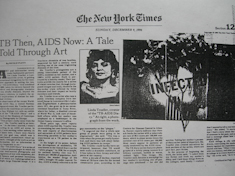 Healing Waters Exhibitions, Healing Waters, Aperture, 1998 and
Spa Journeys, powerhouse Books, 2004
"Healing art reflects current concerns with body and spirituality. The artists, including Linda Troeller, in the show are unified by the belief that art is life affirming."
-Rachel Rosenthal Lafo, Senior Curator "Body & Soul Exhibition" Decordova Museum, Boston, 1992
"It is "organic, blurred, warm, comfortable and mysterious," –holistic and emergent."
Wolfgang Becker, Curator, Bad und Klinik, Ludwig Forum for International Kunst, Aachen, Germany 1996
"Her passion and resourcefulness, her dedication to expressing the human need for healing and spiritual renewal are the cornerstones of her current photographic work."
David Friend, Editor of Creative Development, Vanity Fair, 2004
"Spa Journeys is equal parts a tantalizing photo collection and practical guide. The text is beautifully complemented by Troeller's mesmerizing photographs."
Spa Finder Magazine, 2004
"Linda Troeller is a photographer who explores issues of sensuality. She produced a book The Erotic Lives of Women which represented women's sexual fantasies on a worldwide level. She is also devoted, as is Philip Jones Griffiths, to health issues. She has just published a new book Spa Journeys which visualizes sumptuous gardens of Eden. In both cases, the camera becomes the crucial element in defining images of tragedy and wellness."
Dirck Halstead, www.DigitalJournalist.com, 2004
Erotic Lives of Women, Scalo, Zurich/NY 1998
"The Erotic Lives of Women (Scalo) is different, and should be honored as one of the most gusty and imaginative erotic books of the decade."
-Susie Bright, The New York Times Book Review, November 29, 1998
"Troeller doesn't just photograph women; she photographs the becoming-woman of a girl, the molecular spin of a girl when she feels herself and makes herself felt as a woman. The becoming of a thigh, the becoming of a nipple, the becoming of a mouth; a pout. Here is a woman feeling herself, playing herself, turning into herself. Troeller turns her camera on these turns, she know us and how a body can remain at rest, while sexuality becomes mobile and nomadic. "
Yifat Hachamovitch, Florida, 1998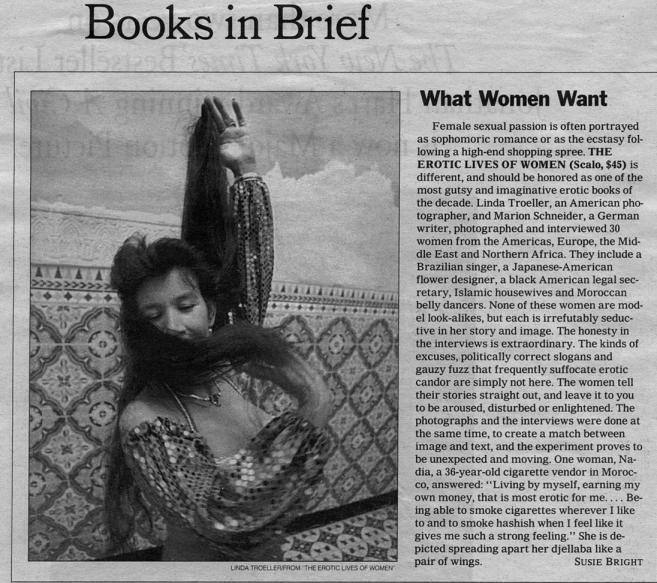 Apolda Fashion Catalogues, 2000, 2002, 2005, commissed by Apolda Museum, Germany
"Linda Troeller in her art work and shows explores the origin of a brand (or a product with its special style) and that it's best to come from
personal history and from the performance and possibilities of the individual's experimentation in an art practice. Production of a style requires authenticity, intimacy, and juxtaposition of one's beliefs in relation to one's experience with the culture/people around you. "
-Centro Colombo American and Inexmoda, Medellin, Colombia, 2007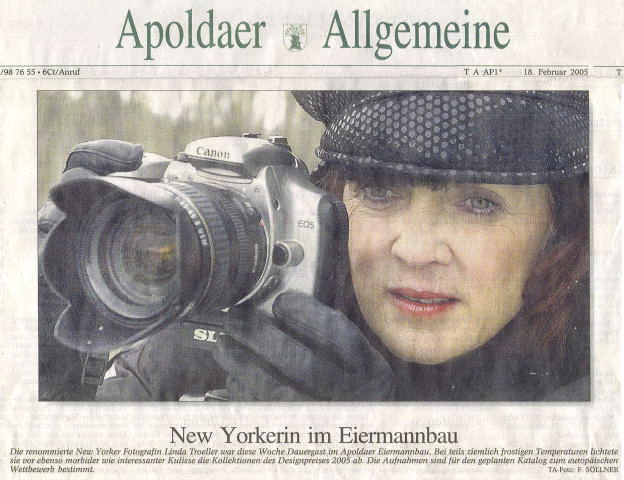 Greenhouse and Beyond Portfolio, 1974-1975
" In Barbara, she posed a tall, blonde young woman in a white dress against a leafy backdrop, then hung a macramé doll in the same niche in the tree—a violent parody of the living woman."
Carolyn Wright, Syracuse New Times, March 10, 1974
"Your pictures have a beautiful intensity and, yes, "lushness" a wonderful word."
-Lee Witkin, Witkin Gallery, March 28, 1975